Valentine's Day is next week! Thursday, February 14th, in case you need a reminder of the date 😉 I always find that Valentine's Day sneaks up on me and I'm usually scrambling to put some kind of decoration up to celebrate the day. It must be that I still haven't come out of the fog of the holiday season and the start of a new year. It could also be that it's the middle of winter and I'm in hibernation mode. This year is no different and the extremely cold weather that we've been experiencing over the past couple of weeks hasn't helped. Luckily for me, I found these really quick DIY projects that have inspired me to get crafting and get into the Valentine's Day spirit.
This is a simple and pretty way to add some Valentine's spirit to your home. All you need is a vase, some branches or twigs, and paper and glue. You can customize your bouquet by using different colored or textured paper or adding some ribbon and bows to your branches. Check out the full tutorial details at
moneyhipmamas
.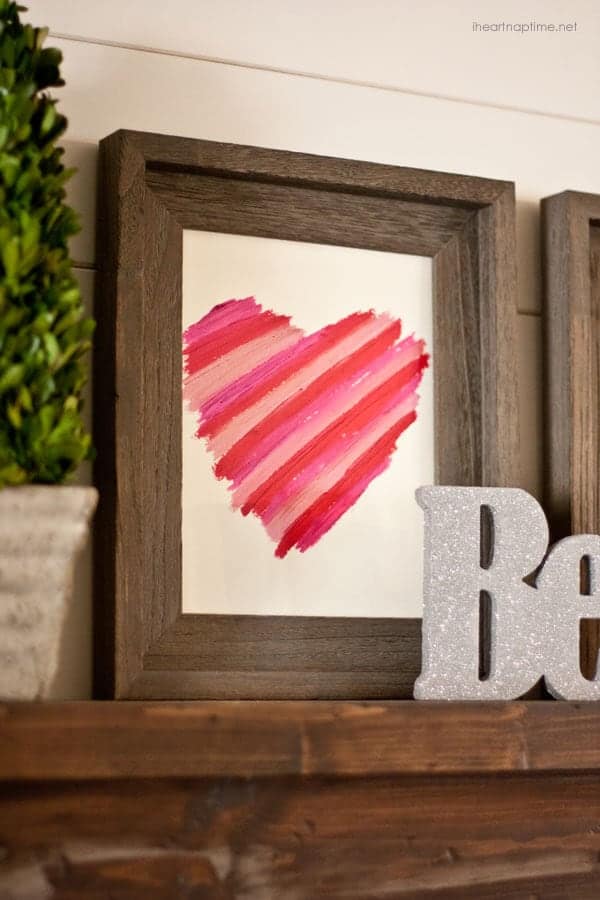 This is another example of a very quick DIY project. All you need is an old frame, paper, and markers, crayons, or lipstick, which is what was used for this example. Don't have an old frame at home? Don't worry the
Reuse Centre
carries lots of frames, in a variety of colors and sizes. Check out
iheartnaptime
for full instructions.
The final project that I found are these cute custom heart canvases. All you'll need are some blank canvases, pom poms, doilies, foam pieces, scrap paper, and glue. The different colors and textures are so appealing. The beauty of this project is that you can use anything on hand to create your patterns or designs. You could use buttons, puzzle pieces, or yarn to create hearts or spell out LOVE. Basically, whatever you're feeling inspired to create! Full instructions can be found at
designimprovised
.
I'm feeling pretty excited about getting started on making these projects and getting them up in my home this weekend! If you're still looking for something fun to do on Valentine's Day check out the details for the Reuse Centre's
Valentine's Day date night workshop
.
Vanessa (Staff)