Anyone who's ever done a big painting project knows that it's easy to accumulate a ton of those paper swatches, fast! Ecru vs. Eggshell, and oh, this brand's Forest Green looks just a tad darker than that brand's Evergreen. Whether your project is big or small, it's important to get the colour just right, so those little swatches come in handy! There's no denying that they're useful, but what do you do with them after you've made your choices?
If you're like many Edmontonians, you bring them to the Reuse Centre! This month, our blog team has put together a list of our favourite ways to reuse paint swatches.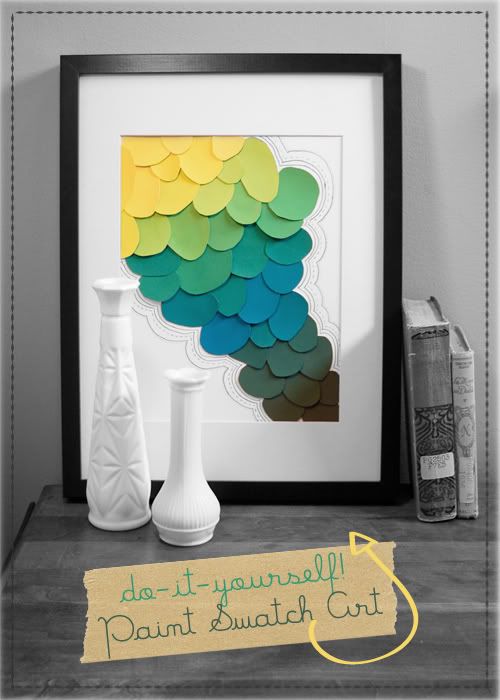 Michelle
Paint Swatch Collage
Using cut out circles of paint swatches, create a stunning effect of ombre colors. I have also seen triangle cut outs attached side by side.
Don't forget to frame your art work!
Sarah
I always have a book on the go, (sometimes two or three at a time!) but I don't actually own any bookmarks. I resort to using receipts, scrap pieces of paper, and the torn-off ends of opened mail.
I really love this simple and cute idea for reusing paint swatches and personalizing them with permanent ink or paint. This a great all-ages craft and perfect for back-to-school.
Nichole
There are so many cool and beautiful ways that paint swatches can be repurposed that it makes me want to take a cloth bag to Home Depot and clean them out. For instance, while I've always thought that mosaics are an interesting way to tszuj up a table top, the idea of smashing up ceramics for it seemed messy and slightly dangerous. But this doesn't have to stop me anymore now that I've found this awesome idea for creating a mosaic look with paint swatches! Just secure the paint chips to the wood top and cover with a piece of glass, and you have a gorgeous work of art that you can tailor for any room.
Lana
While the pretty colours of paint swatches make them perfect to incorporate into parts of a scrapbook page or a handmade card, the paper is generally not acid-free or of archival quality.
"Hey Gorgeous", takes advantage of the perfectly matching colours and light weight to create a customized chandelier that's full of movement.
Check out the tutorial here.
The same technique can be used for a lampshade or a mobile.
Gorgeous!
Emma
Visit
Poppytalk
to see how this amazing feature wall was made over the course of a weekend!
Like cleaner lines and a little more order?
Design Sponge
also has a great example of a paint chip wall
Or if you don't have half of Home Depot's supply of paint chips, a handy dandy calendar, could totally be made from a Reuse Centre picture frame!
Visit
DIY Projects
for instructions on how to make this cute, custom calendar.
Do you have a great idea that we missed? Add your paint-swatch reuse ideas in the comments below!